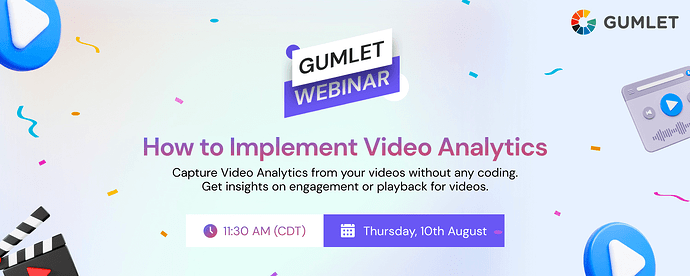 Hello everyone!
We're thrilled to announce an enlightening webinar that is sure to enhance your video platform's functionality and boost your engagement rates.
Title: How to Implement Video Analytics
Subtitle: Capture Video Analytics from your videos without any coding. Get insights on engagement or playback for videos.
Date and Time: August 10th at 11:30 AM (CDT)
Why should you attend?
Seamless Implementation: Learn how you can easily gather and interpret video analytics without delving into coding complexities.
Hands-on Demo: Watch Gumlet's proficient engineering team live, as they navigate through the dashboard and help you understand how to extract the most valuable analytics data.
Interactive Q&A: Got questions? We've got answers! Stay on after the demonstration for an in-depth Q&A session with our engineering maestros.
Benefits:
Enhance viewer experience with data-driven insights.
Boost engagement and understand viewer preferences.
Use video analytics to optimize content and SEO strategy.
Whether you're a content creator, marketer, or a tech enthusiast, understanding video analytics can be a game-changer.
Don't miss out on this opportunity to refine your strategies and scale your video content endeavors.
Reserve your spot today! We're excited to share our expertise with you and help you make the most of your content.
Support
You may reach out to us through our live chat support on Gumlet or email kaustubh@gumlet.com.
Recording